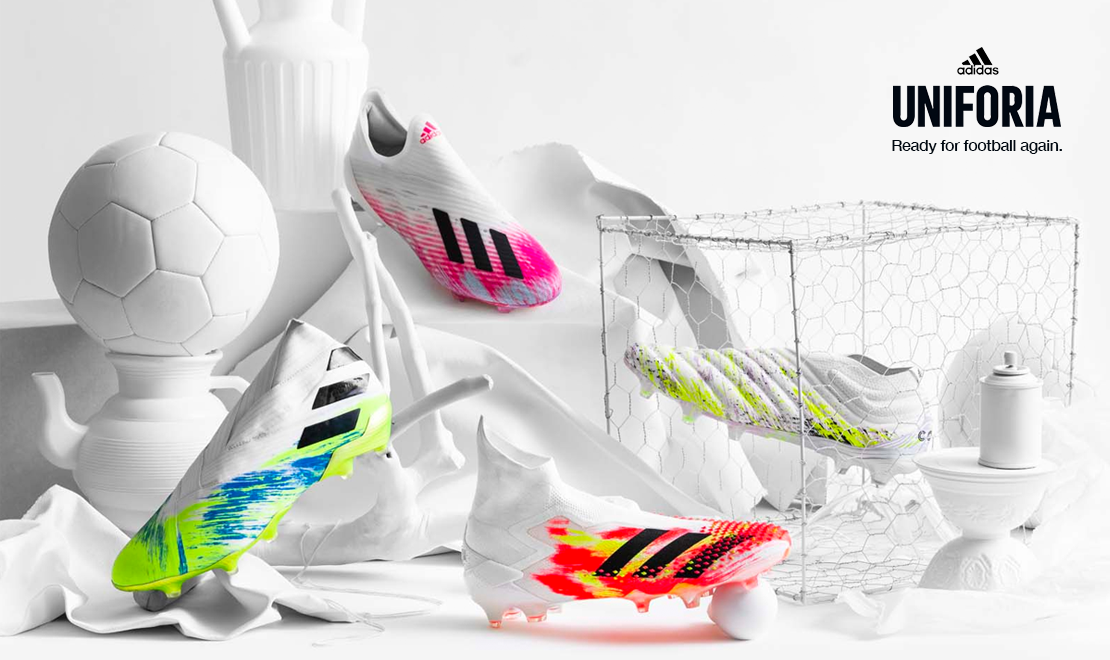 Ready for football, bringing together creative worlds of art & football. Adidas have done it again with an artistic pack of boots that embraces abstract art & self-expression. adidas has dropped their Euro 2020 inspired UNIFORIA Pack that is highlighted by an extremely vivid colour palette & brush stroke designs. The collection celebrates the shared spirit of flair and ingenuity across the Predator, COPA, Nemeziz and X silos.
The starting point for each design was a bold white base, mirroring an artist's blank canvas. Each canvas is brought to life with a luminous colour palette, with brush stroke design sparingly applied in the style of abstract artistry methods for an impactful & handcrafted aesthetic.

The UNIFORIA pack sees Predator Mutator 20+ – complete with its DEMONSKIN innovation for an enhanced level of touch, control & spin on the ball – re-imagined with Pop and Signal Green brushstroke-style detailing, contrasted against the boot's white backdrop.
The new COPA 20+ meanwhile mixes Purple Tint & Black, making for an equally bold design aesthetic. This features upon the boot's leather outer & knitted collar, enabling clean ball contact for the wearer.
A similar palette is used for the updated Nemeziz 19+, combining Signal Green with Team Royal Blue for the intricate design, featuring on its Tension Tape composition designed for a fully adaptive fit.
The collection is rounded off with the X 19+, with lively Shock Pink detailing solely utilised across the boot's low-cut silhouette& 3D moulded heel, giving it a sleek, minimalist look.