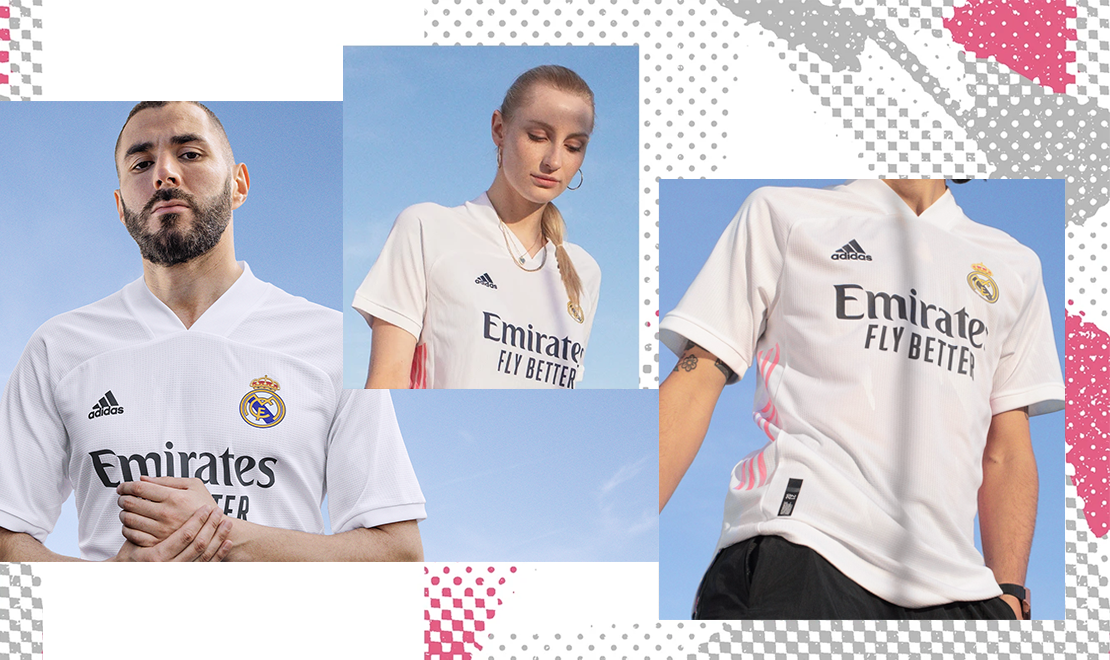 Real Madrid's home jersey for the 2020/21 season, with a bold yet simple design which was created to highlight what makes Real Madrid unique; its hunger for winning and nothing less, or more.
Inspired by the Madrid mentality of facing pressure with fearlessness and defiance, adidas has taken the iconic white of Real Madrid and introduced a subtle tonal graphic across the front of the home shirt. This design is kept minimal in it's aesthetic to not distract from the club's uncompromising mission of achieving glory in every game they play.
The home jersey features Spring Pink accents - inspired by the 2014-15 away jersey - emerging from the 3 stripes and loop label on the neck of the jersey. This subtle graphic and vivid contrast detailing references the contemporary art culture of the vibrant capital, which players and fans alike call home.
The jerseys represent more than a kit to Real Madrid fans. They embody the relentless drive for trophies and the club's desire to continue to create history and achieve glory. Real Madrid has always been a club cut from a different cloth, and this year's shirt will be no different.
"Real Madrid is a unique team with a unique history. We wanted to keep the design of this season's jerseys bold yet simple to reflect the expectation that comes with the badge, and that is to win at all costs. Said Marco Ommicioli, Football Designer at adidas. The shirts may only be 140 grams of fabric, but the weight of expectation is much heavier. The pressure to perform, pressure to win, and the pressure to create history in front fans. This pressure turns good players into great ones, and great ones into global icons, just like the design of these famous shirts."