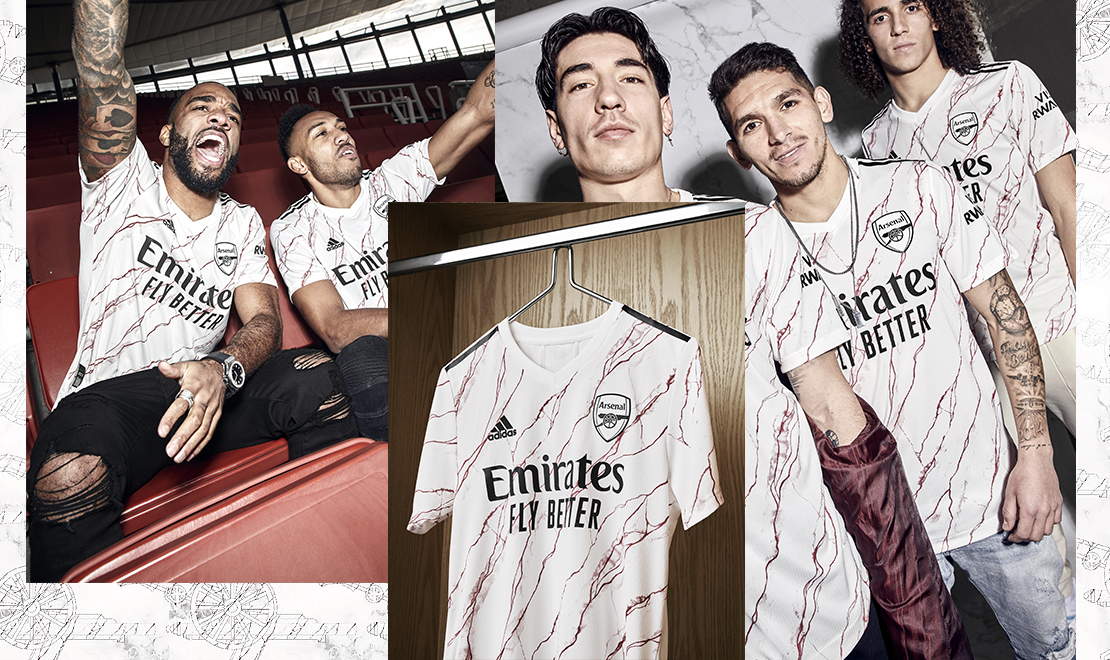 adidas reveal the Arsenal away kit for the 2020/21 season, uniting generations of fans with reference to Highbury's iconic marble halls.
Drawing inspiration from the patterns, colours, and motifs found amongst the iconic East Stand of Highbury and its prestigious marble halls, the away jersey is a literal reference of the marble within it and the podium upon which the statue of iconic former manager, Herbert Chapman rests.
Built in 1936, the façade of the East Stand remains in place after the club's 2006 move to Emirates Stadium– a permanent reminder of the Arsenal's storied past.
"Arsenal's place in North London is synonymous with the club's move to Highbury in 1913. Quite simply, it was the birthplace of the modern club. We wanted to take the community – through design - back to Highbury's halls, to reminisce via a pattern that speaks to the significance of this chapter of the club's history. Said James Webb, Designer at adidas.
"Importantly for this jersey, we wanted to bring these echoes of Highbury into Emirates Stadium, to a new generation of fans, and to the modern player, all via a jersey that fuses the marble style with the latest performance innovations for the 2021 athlete".
Whilst retaining a clean and versatile aesthetic, the shirt has a bespoke, hand-drawn design which uses the colours off white, maroon, and black - and the natural pattern of the marble - to represent the details of the marble halls that saw Arsenal lift the league title thirteen times.
Arsenal's Reiss Nelson has spoken about what the jersey means to him; "Arsenal and adidas have a history of creating amazing kits together and this season's designs feel like another step forward. For any Arsenal fan Highbury is very important to what we are as a club, so being able to represent some of that as we take the field in this new marble away kit will be a proud moment."