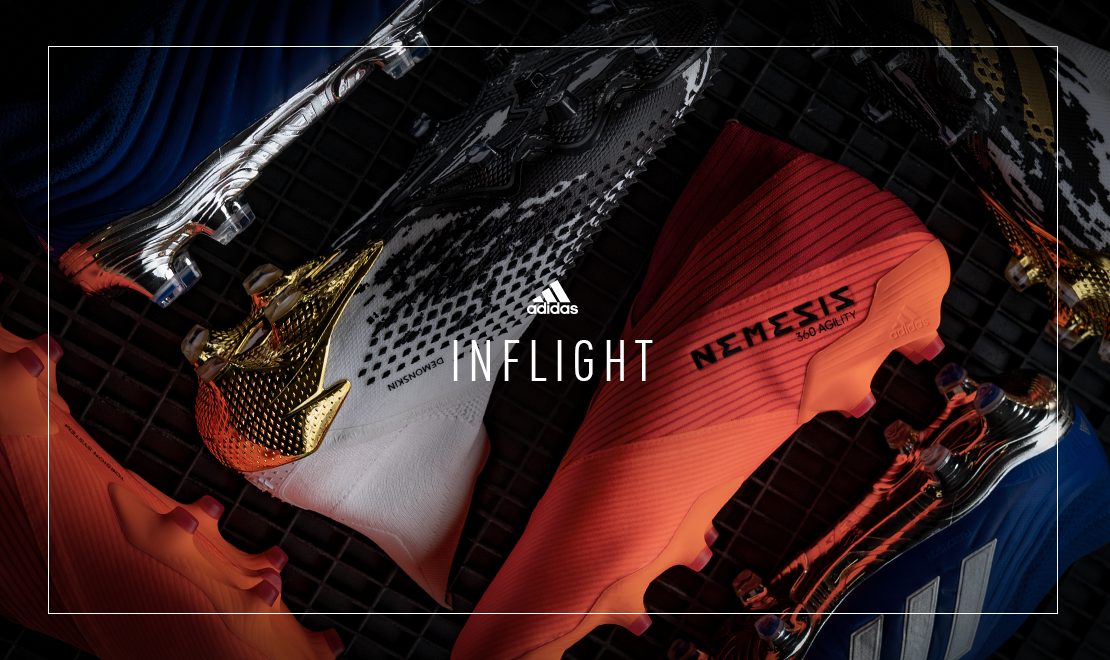 Introducing a stunning new look for the Predator Mutator 20+. The look sees a white and black graphic fade across the upper, and as if that aesthetic wasn't enough, it's embellished by the introduction of gold details through the Three Stripes and heel. Ever heard that you're not supposed to upstage the bride? The X Ghosted is certainly a sleek new look, but the 'Inflight' Predator really does its best to steal the attention away from the headliner. And extending the appeal to those who aren't so keen on the collar, there's also a low cut, laced version available.
Next up is the COPA 20+, which adopts a bold block of blue wrapped around the upper. The only pop of difference comes from the white Three Stripes, located on the medial side, as usual. But it's on the flip side that the real flourish takes place, with a solid silver chrome soleplate. Sits in perfect contrast to the gold of the Predator.
And finishing the pack off is the Nemeziz 19+, itself due an upgrade, much like the X was before the appearance of the Ghosted. The Nemeziz sees a nice fade execution across the upper, starting from the collar in "Glory Red", and transitioning down to "Signal Coral", with black pinstripes working their way through the agility bandage. But unlike the other two, there's no space for a final flourish of gold or silver, settling instead for the bronze hues of the over all look.